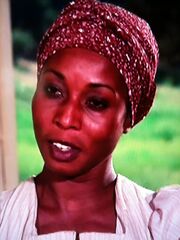 Isabelle "Belle" Waller (born 1747) was a slave owned by Dr. William Reynolds of Spotsylvania County, Virginia. She is the wife of Kunta Kinte (Toby Waller) and the mother of Kizzy Kinte. She is also the great-great-great-great grandmother of Alex Haley. She was the only one who actually enjoyed Kunta's company. She's the 3rd descedent of her Grandpa, who was a tribe leader in West Africa in Nigeria. He was captured by English lead by Frank Moore II, who hated Africans wanted them to be slaves.
Before arriving to the Reynold's plantation, Belle fell in love with a fellow slave named Ben when she was a teenager. Ben and Belle had two daughters. When Ben tried to escape with Bell's assistance, he was hanged and Bell's two daughters were sold off as compensation to cover the damages over the loss. Upon hearing this story, Kunta names their daughter "Kizzy" meaning "stay put," assuring that she is never sold from them. 
A "big house" cook, Belle is first introduced after Kunta's foot is chopped off by slave catchers and sold to William Waller. After Kunta wakes up, he is lost in despair and has lost the will to live. Knowing how much pride Kunta has in his heritage, she mocks him in order to anger him enough to get him to walk again. 
Though three years his senior, Belle and Kunta begin to fall for each other and eventually get married. At forty-three, Belle becomes pregnant with their daughter Kizzy. 
In 1806, Dr. Waller orders Belle and Kunta to the house. He tells them that Noah was given a traveling pass by Kizzy. For violating his rules, he tells them Kizzy will be sold. Belle gets on her knees and begs her master not to sell her daughter from her, citing forty years of loyal service, all to no avail. She then hears Kizzy screams outside and realizes she's being taken away.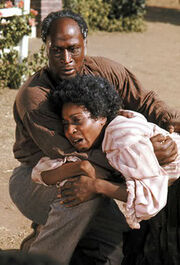 Belle and Kunta rush outside but the overseer uses the whip to keep them at bay. Belle breaks down in Kunta's arms as Kizzy is driven away.
Belle sees Cunta picking up the dirt and asks him what he's doing. Cunta says that according to a Mandinka custom, if he picks up the dust of Kizzy's footprints, she will come back one day. Belle bitterly replies, "Like naming her Kizzy was supposed to make her stay put." She tearfully tells Toby that their child is gone and will never come back.
Eventually, Belle is sold from her husband, causing him to die of a broken heart.